Yellowjackets
Yellowjackets is the PACCSA youth cross-country ski team. Yellowjackets learn to ski through skill sessions built around fun and games, based on Cross Country Canada's Bunnyrabbit and Jackrabbit developmental programs. All Yellowjackets learn classic xc skiing, the more experienced groups also learn to skate ski.
Beginners from age 5 to 10 and skiers from 11 to 15 are welcome to join Yellowjackets. If you are interested in a beginner class for older kids, please contact us.
Yellowjackets skill sessions are held on most Saturdays in January and February at Laurel Ridge State Park XC ski area. We also take part in races and other fun activities with our neighboring youth teams, Hilltoppers XC (Cleveland) and Wilderness Wildcats (Erie).
Bunnyrabbits
Aged 5-6 on Jan 1st. The bunny group play lots of games and learn to move around on skis as they play. They learn the basic skills, from falling and rising and diagonal stride to star turn and herringbone, all without poles.
Jackrabbits
Aged 7-13 on Jan 1st. Jackrabbits learn in the same way as the bunny group, but cover more ground. They learn the basic skills and then progress to using poles and the more advanced skills such as double-pole, kick double-pole and step turns. The more experienced Jackrabbits also learn skate technique.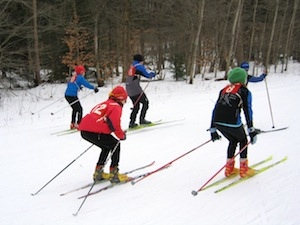 Track Attack
Aged 10-15 on Jan 1st. Track attack skiers work to achieve a set of goals in ski technique, racing, training and also skiing for fun. The skiers practice both classic and skate technique each session.
Parents
We rely on help from parents for making cocoa and snacks, taking photos, coordinating travel and assisting with races, as well as making sure that their young skiers arrive on time each week, dressed appropriately, with the correct gear. Skiing parents may be needed to tail one of the ski groups. Parent support is vital!